Shibari is japanese, and means "to tie". Not just to throw strings or ropes around casually, but to do in a beautiful and esthetic way. The use of ropes has a long history in Japan, especially according to the Shinto-religion. Where the West tells fairytales about the princess being kept imprisoned in the tower, Japan tells the story of the young women being captured and tied up with ropes.
Kinbaku means "to tie tight". But the meaning of the word, lies in the experience of being tied tight, and the mutual play between the two people who ties together. Also referred to as communication without words  – a very intense, intimate and present experience.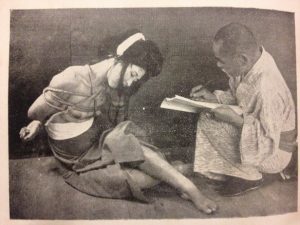 This form is originated from the Samurai-discipline Hojojutsu to use ropes to capture and maintain prisoners. Later it was also used to torture prisoners.At some point during history, someone came to the idea to use it sexually. Some of the first erotic expressions in ropes I have come across, is the pictures o
f naked bound women taken by Ito Seiu in the beginning of the 2000th century.
There are many ways to be tied up:
It can be the gentle performance – the amazing estethic expression, where you present the model beatifully, almost artistically in amazing suspensions.
The more forcefully performance – the pretty, yet suffering expression of the model – very popular in Japan.
The sensible, present play – the model melts, turns the thoughts out and gets entirely down in her body. Time freezes, and it is pure pleasure.
The intimate, erotic game, where fantasies flows. It becomes more dominant, and sexual energies are raised.
A hard and challenging binding – Japanese BDSM, a loving intense play with pain, shame and boundaries. The fantasies are blossoming, and you can live out your most secret dreams.
---
Dansk
Shibari er japansk og betyder "at binde". Ikke bare at kaste snor eller reb tilfældigt rundt om noget, men at gøre det smukt og æstetisk. Brugen af reb har en lang tradition i Japan, ikke mindst i forhold til Shinto-religionen. I Vesten fortælles eventyret om prinsessen der bliver holdt fanget i tårnet, hvor historien i Japan fortæller om unge kvinder der bliver taget til fange og bundet med reb.
Kinbaku betyder "at binde stramt". Men betydningen ligger i oplevelsen af at blive bundet stramt, og den leg der er imellem to som binder sammen. Det omtales også som kommunikation uden ord – en meget intens, intim og nærværende oplevelse. Denne form er inspireret af Samuraiernes "hojojutsu" – at bruge reb til at tilfangetage og fastholde fanger. Det var en af de discipliner en Samurai skulle mestre. Senere hen blev det også brugt til tortur af fanger. På et eller andet tispunkt gennem historien, er nogen kommet på den ide at dette kunne bruges erotisk. Noget af det første jeg kender til er Ito Seiu's billeder af nøgne bundne kvinder fra starten af 1900-tallet.
Man kan binde på mange måder:
Det kan være
– den blide opvisning
– det flotte æstetiske udtryk, man viser modellen smukt frem, næsten artistisk i flotte ophængninger.
– Den lidt hårdere opvisning – det smukke lidt lidende udtryk – meget populært i Japan.
– Den sanselige, nærværende leg – modellen smelter, slukker hovedet og kommer helt ned i kroppen. Tiden går i stå, og det er bare ren nydelse.
– Den intime erotiske leg, hvor fantasierne kommer i spil. Der kommer lidt mere dominans ind, og den seksuelle energi kommer ind.
– En hård og udfordrende binding
– BDSM på japansk, en kærlig intens leg med smerte, skam og grænser. Fantasien i fuldt flor, og I kan udleve jeres hemmeligste drømme.